When it comes to replacing or repairing your roof, it's important to work with a trustworthy and reliable roofer or roofing contractor. But how can you tell if you've chosen the wrong one? Here are 7 signs to look out for that may indicate you're working with the wrong roofing contractor.
1. They're not licensed or insured
When it comes to roofing contractors, you want to make sure you're working with a reputable company that has the proper licensing and insurance. It's essential to have a contractor who is licensed, insured, and bonded as it protects your home and any people working on the job from unforeseen accidents or damages.
A good rule of thumb is to ask for proof of both licensing and insurance before committing to any contract. Not only does this help protect you and your home, but it also ensures that the contractor is skilled in their trade and complies with the local building codes. Make sure the license is up-to-date and that the insurance policy covers any damages to your home or property that may arise during the project. A legitimate roofing contractor will be happy to provide these documents upon request.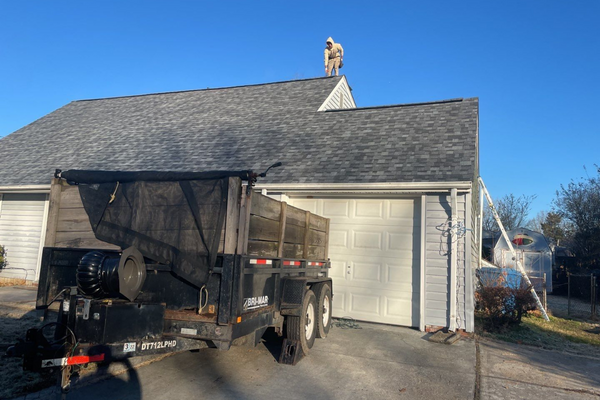 2. They don't have any references
When you're looking for a roofing contractor, one of the most important things to consider is if they have any references or not. You want to make sure that the contractor has worked with other homeowners in the past and has done a good job. It's also important to ask for references so you can get an honest opinion about their work.
If the roofing contractor you're considering doesn't have any references, it's a huge red flag. This could mean that they're new to the business and don't have a lot of experience, or it could mean that they haven't been doing great work and no one is willing to vouch for them. Either way, it's better to be safe than sorry and find a different contractor who does have references.
3. They're not local
When you're looking for a roofing contractor, one of the key considerations is whether they're local or not. It's important to have a contractor that's close by, in case there's an issue with the job or you need them to come back and fix something. Working with a local contractor also helps ensure that they are familiar with local building codes and regulations.
If the contractor you're considering isn't local, it may be difficult to get them to come back if something goes wrong. Additionally, they may not be familiar with local building regulations, which could result in costly mistakes down the line.
Before hiring a roofing contractor, make sure to ask about their physical address and how close they are to your location. Doing so will give you peace of mind knowing that you're working with a professional who is familiar with local building codes and can easily be contacted if something needs to be addressed.
4. They're not transparent about pricing
When working with a roofing contractor, transparency is essential. If you're working with a contractor who is not transparent about their pricing, it's a major red flag. You need to be able to trust that you are getting the best deal for your project and that the contractor is not taking advantage of you.
The contractor should provide an estimate for the job, including materials, labor costs, and taxes, that's easy to understand. They should also be open to answering any questions you have about the cost of the project. If the contractor can't provide a detailed breakdown of their costs, you should consider finding another contractor.
In addition, it's important to watch out for any surprise fees or charges. Before signing a contract, make sure you know exactly what you're paying for and make sure that the prices are in line with what you expected. If the contractor is vague or evasive when talking about pricing, it's best to move on and find another contractor who is more transparent about their costs.
5. They don't offer a warranty
If the roofing contractor you're working with isn't willing to offer you a warranty on their work, then it's time to look for a different contractor. A warranty is essential because it protects you in the event that something goes wrong with the roof after installation. The warranty should cover materials, labor and other related costs.
When looking for a roofing contractor, make sure you ask about the type of warranty they offer. The contractor should be able to provide you with details about the warranty, including how long it will last and what it covers. If they can't provide this information or they try to avoid the topic altogether, then it's a clear sign that they may not be the best choice.
6. They pressure you to sign a contract
When a roofing contractor is pressuring you to sign a contract, this could be a major red flag. The contractor may be trying to rush you into signing the contract before you have a chance to read it thoroughly and understand the terms. In some cases, the contractor may even attempt to add clauses or terms that weren't discussed during the initial consultation. This can lead to unexpected expenses down the line, so it's important to make sure you understand the contract before signing anything. Furthermore, a reputable roofing contractor should never pressure you into signing a contract—they should provide all the necessary information and allow you the time and space to make an informed decision.
7. They don't have a physical address
If you're looking for a reliable roofing contractor, it's important to know where they are based. Having a physical address is a sign of credibility and trustworthiness. If the roofing contractor you're considering doesn't have a physical address, that could be a red flag. This could indicate that they are not well established, don't have a good reputation or may even be running a scam. You should make sure that any contractor you consider has a physical address so that you can reach out to them if needed. Additionally, having a physical address also gives you more options in terms of legal recourse should something go wrong.