As a homeowner in Virginia Beach, ensuring the protection, durability, and aesthetic appeal of your roof is crucial. Staying up-to-date with the latest trends and innovations in residential roofing can help you make informed decisions when it comes to upgrading or replacing your roof. In this blog post, we will explore the exciting developments in roofing materials, design options, and technological advancements that can enhance the functionality and performance of your roof. From sustainable solutions to smart roof technologies and modern design trends, let's dive into the world of residential roofing.
Sustainable Roofing Solutions
In recent years, the demand for eco-friendly roofing options has been on the rise. Homeowners are increasingly seeking sustainable materials that reduce their environmental footprint and provide long-term benefits. One popular trend is the use of recycled and reclaimed materials such as metal, rubber, and plastic composites. These materials offer excellent durability, energy efficiency, and resistance to harsh weather conditions.
Additionally, green roofs and living roofs have gained traction as sustainable roofing solutions. By incorporating vegetation and plant life onto your roof, these systems provide natural insulation, reduce stormwater runoff, and improve air quality. They also add an aesthetic element, creating a beautiful and serene environment.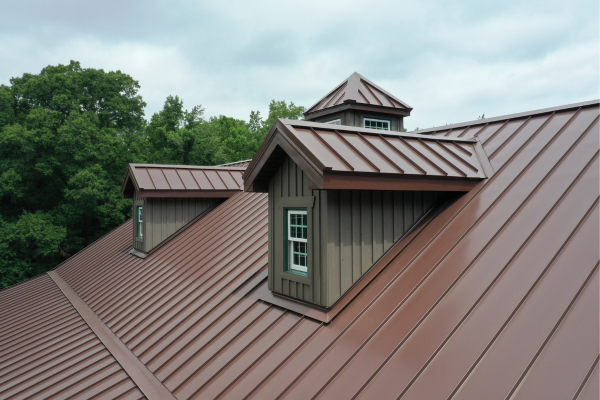 Smart Roof Technologies
The rise of smart home technologies has extended to roofing as well. Homeowners now have the option to integrate their roofs with advanced systems that enhance safety, energy efficiency, and convenience. One such innovation is the use of solar panels to harness clean and renewable energy. Solar roofs not only reduce energy costs but also contribute to a greener future. With incentives and tax credits available, installing solar panels has become an attractive option for homeowners.
Another smart roof technology gaining popularity is the integration of sensors and monitoring systems. These sensors can detect leaks, temperature changes, and other potential issues, allowing homeowners to take proactive measures to prevent major damages. Advanced monitoring systems provide real-time data and alerts, offering peace of mind and saving money on costly repairs.
Modern Design Trends
Roofing design has evolved beyond mere functionality. Today, homeowners are looking for roofs that enhance the overall aesthetics of their homes. Modern design trends focus on incorporating unique and eye-catching elements into the roof's structure and appearance.
One popular trend is the use of architectural shingles. These shingles mimic the look of natural materials such as slate, cedar, or tile, providing a visually appealing and high-end appearance without the associated costs. Architectural shingles come in various shapes, sizes, and colors, allowing homeowners to achieve the desired look for their homes.
Additionally, roof color choices have become more diverse, with homeowners opting for bold and unconventional hues that make a statement. This trend adds character and personality to a home's exterior while complementing its architectural style.
To Sum It All Up
As a homeowner in Virginia Beach, staying informed about the latest roofing trends and innovations can help you make educated decisions when it comes to enhancing the functionality, aesthetics, and sustainability of your roof. The emergence of sustainable roofing materials, smart roof technologies, and modern design trends provide homeowners with exciting options to upgrade or replace their roofs.
Whether you are looking to reduce your environmental impact, incorporate smart features, or enhance the visual appeal of your home, exploring these roofing trends will inspire you to make the best choices for your roofing needs. Contact Reitzel Roofing & Exteriors, your trusted roofing contractor in Virginia Beach, to learn more about these trends and find the perfect roofing solutions for your home.