Getting a new roof installed can be a daunting experience, but it doesn't have to be. Knowing what to expect before, during, and after a roof installation will help make the process as smooth and stress-free as possible.
In this blog post, we'll discuss what you should expect before, during, and after your roof installation so that you can feel confident about your upcoming roofing project.
Here at Reitzel Roofing & Exteriors, we proudly serve Virginia Beach and its surrounding areas. When you choose us to complete your roofing installation, we will always be transparent and effectively communicate with you on what to expect during each step of your roofing project, keeping you completely free of stress.
Now, let's get into it.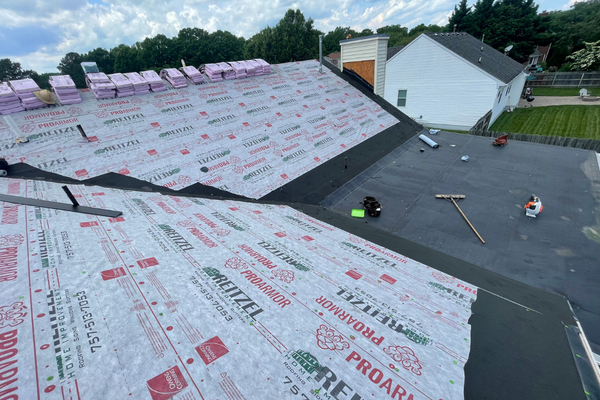 Preparing For Your Roofing Project
It all starts after you book your free inspection and we come to assess your home. We will ask you lots of questions to clearly understand all of your roofing needs. While we are at your home, we will be able to give you a roofing cost estimate right on the spot. Next, we'll have a conversation with you about how we will complete your roofing or exterior project. We will finalize warranties, materials, and payment plans suited to your needs.
When you are a few days out from the start of your roofing project, it's important to prepare your home for the roofing installation. Make sure that the area around the house is cleared of any debris or landscaping items that may impede access to the roof. Have your utility lines marked so they can be easily avoided during the installation process. It's also a good idea to remove any valuable items from the attic or other areas that may be affected by the roof installation.
The Day of the Roofing Installation
The day that our contractors are going to install the new roof on your home, ensure that there is space in your driveway for the dumpster we will bring to collect all of the old roofing debris and for our trucks with all of the new materials.
You may also want to have any pets or members of your family that are sensitive to loud noises to move to a temporary location while the actual installation is happening.
During the installation, your roofing contractor will remove your old roof material and inspect the roof structure for any potential issues or hazards. If they find any, they will make the necessary repairs before proceeding with the installation. The contractor will then install the new roof material according to the manufacturer's instructions and industry standards. Finally, the contractor will add any additional materials and sealants needed to complete the job.
We will be completely transparent with you on how the roofing project is going and if we need additional time to complete your project to the highest standards.
After Your Roofing Installation Is Complete
Our crew here at Reitzel Roofing & Exteriors will ensure that all of the debris and any hazards are removed from your yard (especially nails). We will not leave your property until everything is cleaned up.
You may notice that the shingles on your new roof may not be laying perfectly flat right after they are installed. Check out our blog here (link) that goes into depth about why this occurs and why you shouldn't be worried.
Also, whatever payment plan we agreed on ahead of time will begin.
If you have any further questions or concerns after your roofing installation has commenced, please do not hesitate to reach out to us at any time by calling us at (757) 513-7053. Our incredible team at Reitzel Roofing & Exteriors is always happy to help!