Are you looking to enhance your home's appeal and create a space where you can relax and entertain outdoors? Look no further than adding a deck to your home! A deck not only expands your living space but also offers a myriad of benefits that can transform the way you experience your home.
In this blog post, we'll delve into the advantages of adding a deck to your home, including increased usable space, improved property value, enhanced curb appeal, and opportunities for outdoor entertainment and relaxation.
Read on to discover why a deck can be the perfect addition to your home.
Increased Usable Space
One of the most significant benefits of adding a deck to your home is the expansion of usable space. A well-designed and properly constructed deck provides you with an additional area where you can unwind, entertain guests, and enjoy the beauty of the outdoors. Whether you envision hosting summer barbecues, lounging with a book, or having a cozy evening under the stars, a deck offers a versatile space that caters to your lifestyle.
Improved Property Value
Investing in a deck can significantly increase the value of your home. Potential buyers are often drawn to houses that offer outdoor living spaces, as they provide an additional selling point. A beautifully designed and well-maintained deck adds aesthetic appeal and functionality, making your home stand out in the market. By adding a deck, you not only enhance your current living experience but also make a wise investment for the future.
Enhanced Curb Appeal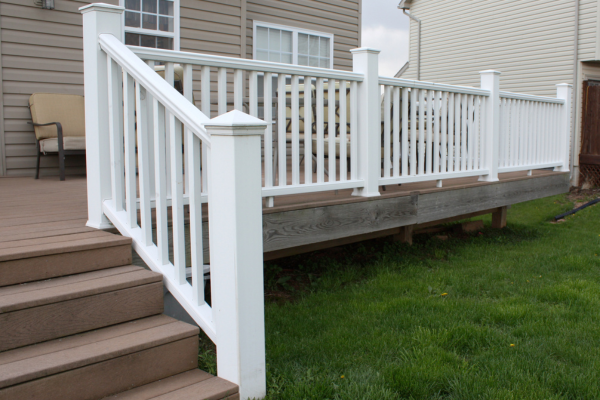 The exterior of your home sets the tone for its overall appeal, and a deck can greatly contribute to its visual impact. A thoughtfully designed deck complements the architecture of your house, adding character and charm. Whether you opt for a classic wooden deck, a contemporary composite material, or a combination of different materials, you can customize the design to match your home's style. A well-maintained deck with attractive features, such as built-in seating or decorative lighting, can create an inviting and captivating first impression.
Outdoor Entertainment and Relaxation
Imagine having a dedicated space where you can entertain guests, enjoy family gatherings, or simply unwind in the fresh air. A deck provides an ideal setting for outdoor entertainment and relaxation. You can set up a cozy seating area, complete with comfortable furniture and accessories, to create an outdoor living room. With the addition of a grill or an outdoor kitchen, you can host memorable cookouts and dinner parties. Your deck can also serve as a tranquil retreat, allowing you to escape the stresses of everyday life and bask in the beauty of nature.
Personalization and Customization
Adding a deck to your home allows for personalization and customization according to your preferences and needs. From the choice of materials to the layout and design, you have the freedom to create a deck that reflects your style and complements your lifestyle. Whether you desire a spacious multi-level deck with separate areas for dining and lounging or a small intimate space for relaxation, the possibilities are endless.
Working with a professional contractor, such as Reitzel Roofing & Exteriors, can help you bring your vision to life and ensure the deck is built to meet your specific requirements.
Conclusion
As you can see, the benefits of adding a deck to your home are plentiful. From expanding your usable space and increasing property value to enhancing curb appeal and providing opportunities for outdoor entertainment and relaxation, a deck is a valuable addition to any home. If you're ready to transform your living space and create an inviting outdoor haven, contact Reitzel Roofing & Exteriors today for a complimentary inspection and expert guidance. Our team of experienced professionals will help you design and build the perfect deck to suit your needs, ensuring a seamless integration with your home's architecture and landscape.
At Reitzel Roofing & Exteriors, we understand the importance of quality craftsmanship and attention to detail when it comes to deck construction. Our team of skilled professionals will work closely with you to understand your vision, assess your space, and provide expert advice to create a deck that exceeds your expectations.
In addition to our expertise in deck construction, we offer a wide range of high-quality materials to choose from. Whether you prefer the timeless elegance of natural wood or the low-maintenance durability of composite decking, we have the options to suit your style and budget. Our team will guide you through the selection process, considering factors such as aesthetics, maintenance requirements, and longevity, to ensure you make an informed decision.
Expand Your Living Space with a Deck from Reitzel Roofing & Exteriors
At Reitzel Roofing & Exteriors, we are passionate about creating beautiful and functional outdoor spaces for homeowners in Virginia Beach and the surrounding areas. With our expertise in deck construction and commitment to customer satisfaction, we are the trusted choice for all your deck needs.
Don't miss out on the benefits of adding a deck to your home. Contact us today to schedule your complimentary inspection and consultation. Let us help you expand your living space and create an outdoor oasis that you and your loved ones can enjoy for years to come.