Your home is more than just a place to live; it's an expression of your personal style and a reflection of your taste. When it comes to enhancing your home's exterior, siding and roofing play pivotal roles in creating a lasting impression. The perfect combination of these elements can transform your home's curb appeal, elevating it to a whole new level.
In this comprehensive guide, we'll explore the art of pairing siding and roofing to achieve a curb appeal transformation. From classic and timeless to modern and edgy, we'll delve into various combinations and design principles. Get ready to discover how the right choices can turn your house into a stunning visual masterpiece.
The Synergy of Siding and Roofing
The exterior of your home is like a canvas, and siding and roofing materials are the colors that paint your property's character. The synergy between these two elements is crucial for achieving a harmonious and appealing appearance. Here's how to make the most of this combination:
1. A Palette of Possibilities
When it comes to siding, you have a diverse palette to choose from. Consider classic options like vinyl, the natural elegance of cedar shakes, the durability of fiber cement, or even the modern charm of metal siding. Each material brings its unique textures and colors to the mix.
On the roofing side, the choice is equally wide. Asphalt shingles come in various colors and styles, while metal roofing offers a sleek, modern look. If you're aiming for an elegant touch, slate or tile roofing materials can add a touch of luxury.
2. Color Coordination
The key to a successful siding and roofing combination is color coordination. Opt for colors that complement each other while also highlighting the architectural features of your home. For example, a traditional white or cream-colored siding pairs beautifully with dark asphalt shingles. In contrast, a modern metal siding might work exceptionally well with a cool, gray-toned metal roof.
3. Balance and Contrast
To create an attractive contrast, balance different elements of your home's exterior. If your siding is relatively plain, a textured or multi-dimensional roofing material can add depth and interest. Conversely, if your siding is bold and textured, a simple, clean roofing material can provide balance.
4. Consider Architectural Style
The architectural style of your home is a critical factor in choosing the right combination of siding and roofing. For example, a Cape Cod-style home might look fantastic with cedar shakes and a gable roof, while a modern home could embrace a sleek metal siding and a flat, metal roof.
Now, let's delve into various siding and roofing combinations that can transform your home's curb appeal.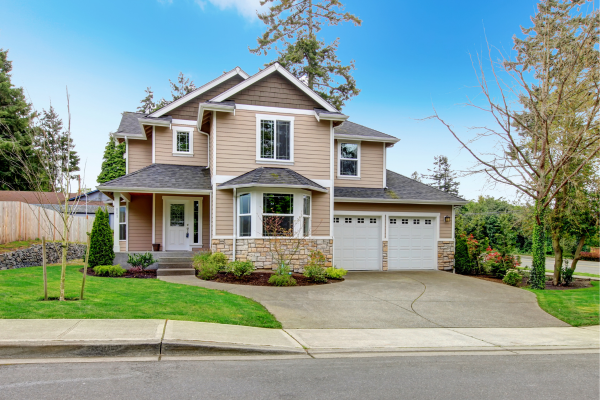 Classic Elegance: Cedar Shakes and Asphalt Shingles
When it comes to timeless and classic curb appeal, it's hard to beat the combination of cedar shakes for siding and asphalt shingles for roofing. This pairing exudes warmth and charm, making it an ideal choice for traditional and cottage-style homes. The cedar shakes offer a textured, inviting appearance, while the asphalt shingles provide a durable and attractive roofing solution. Whether you choose natural wood tones or painted shakes, the combination of these materials is sure to impress.
Modern Chic: Metal Siding and Standing Seam Metal Roof
For those with a penchant for modern and minimalistic aesthetics, metal siding and a standing seam metal roof create a sleek and chic appearance. The clean lines and smooth textures of these materials give your home a contemporary edge. Choose from a variety of metal siding profiles and colors to match your vision perfectly. The standing seam metal roof not only complements the siding but also adds an additional layer of sophistication. The combination is perfect for homes with a modern architectural style, emphasizing simplicity and efficiency.
Mediterranean Beauty: Stucco and Clay Tile Roofing
If you're drawn to Mediterranean or Spanish-style architecture, the combination of stucco siding and clay tile roofing is a perfect fit. Stucco provides a smooth and slightly textured appearance, making it a quintessential choice for this architectural style. Clay tiles, known for their durability and distinctive look, enhance the Mediterranean charm. The earthy tones of the tiles pair harmoniously with the creamy or pastel hues of stucco, creating a home that exudes warmth and timeless beauty.
Cottage Charm: Vinyl Siding and Wood Shake Roofing
For a cottage-style home that embodies coziness and charm, vinyl siding and wood shake roofing are an excellent choice. Vinyl siding offers versatility, allowing you to achieve a wide range of colors and textures. Combine it with wood shake roofing to infuse a sense of character and rustic appeal. The wood shakes' natural, irregular texture pairs beautifully with the smoothness of vinyl siding. This combination is perfect for creating a welcoming and picturesque look that's quintessential for cottages and bungalows.
Nautical Nod: Lap Siding and Metal Roofing
If you're near the coast or enjoy a nautical theme, lap siding and metal roofing can help you capture the essence of seaside living. Lap siding, with its horizontal lines and smooth surface, mimics the look of traditional ship lap siding. To enhance the coastal charm, pair it with metal roofing in marine-inspired shades, such as deep blues or seafoam greens. The result is a home that evokes feelings of relaxation, freshness, and a direct connection to the sea.
Craftsman Character: Fiber Cement Siding and Composition Shingle Roof
For Craftsman-style homes, characterized by their architectural details and handcrafted aesthetic, fiber cement siding and composition shingle roofing offer the perfect combination. Fiber cement siding can be tailored to mimic the look of traditional wood siding but with the durability and low maintenance of cement. Pair it with composition shingle roofing in earthy, nature-inspired colors. The result is a home that embodies the Craftsman style's emphasis on simplicity and craftsmanship.
Cozy Comfort: Brick Veneer and Slate Roofing
When it comes to creating a cozy and elegant exterior, the combination of brick veneer siding and slate roofing is a winner. Brick veneer provides a timeless and sturdy façade, while slate roofing exudes sophistication and longevity. The deep, rich colors of brick pair beautifully with the natural shades of slate. Together, they create a sense of comfort and refinement, making your home stand out with an aura of classic elegance.
Effortless Elegance: Vinyl Siding and Metal Roofing
For a balanced combination that effortlessly enhances your home's exterior, consider vinyl siding and metal roofing. Vinyl siding is known for its low maintenance and versatility. When paired with metal roofing in complementary or contrasting colors, this combination exudes a sense of effortlessness. Whether you're going for classic or contemporary curb appeal, this pairing can accommodate a wide range of architectural styles.
Conclusion: Transform Your Curb Appeal with Reitzel Roofing & Exteriors
Your home's exterior is your canvas, and the combination of siding and roofing is your palette. By carefully selecting and pairing these materials, you can achieve a remarkable curb appeal transformation. The right choices not only enhance the beauty of your home but also elevate its character and value.
At Reitzel Roofing & Exteriors, we understand the importance of this transformative process. That's why we're committed to helping you make the best choices for your home's exterior. Our team of experts is here to guide you through the selection process, offering professional insights and personalized recommendations. Your vision for your home is our priority, and we'll work with you to bring it to life.
While this guide provides an in-depth look at the power of siding and roofing combinations, it's essential to remember that every home is unique. The ideal pairing for your home depends on your architectural style, personal preferences, and budget. Our experts at Reitzel Roofing & Exteriors are ready to discuss your project and provide a free inspection to get you started on your curb appeal transformation journey.