Finding the right commercial roofing contractor can be a challenge. There are many options to choose from, and it can be difficult to decide which one is best for your needs. If you're looking to hire a commercial roofing contractor, here are five tips to help you find the best one for the job. With these tips, you can make sure that the roofing contractor you select is the right fit for your commercial roofing project.
1.) Get At Least Three Bids
It's important to get at least three bids from different commercial roofing contractors before deciding which one to hire. Getting multiple bids allows you to compare and contrast the quotes, making sure you get the best price for the job. Make sure that each bid is written out, so you have a clear understanding of what services are included and the cost. It's also important to make sure that each contractor is bidding on the same scope of work and materials, so you can accurately compare each bid. In addition, take the time to ask questions and make sure that each contractor understands exactly what type of roofing project you need to be completed.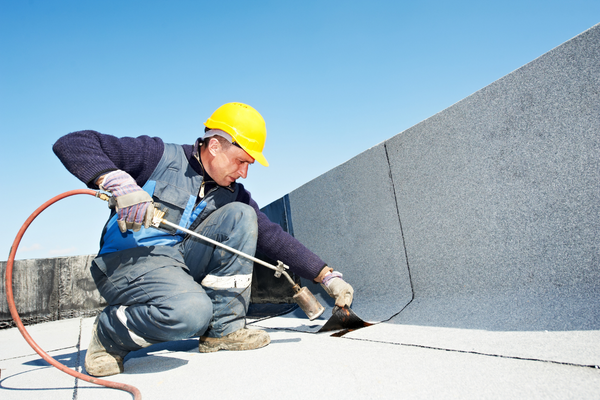 2.) Ask For Referrals
When looking for the best commercial roofing contractor, it's important to ask around and get referrals. A good place to start is by asking your friends, family, and colleagues who have recently had work done on their own roofs. Check online reviews as well; people are often very honest in their feedback.
When you have some possible referrals, contact each of them and ask detailed questions about their experience. How long did the job take? Was the contractor prompt? Was the price reasonable? Did they follow all the necessary safety protocols?
If you're satisfied with the responses you receive, follow up with a visit to see the completed job for yourself. A referral from someone you trust is one of the most effective ways to find a good commercial roofing contractor.
3.) Check Licensing And Insurance
When looking for a commercial roofing contractor, it is essential to check their licensing and insurance status. Make sure that the contractor you are considering has all the necessary licenses and certifications required by your state, local government, and the roofing industry.
Additionally, you should also verify that they have proper insurance in place, including general liability and workers' compensation coverage. Not only will this ensure that your roof is installed correctly and safely, but it will also protect you from any potential liabilities if something were to go wrong. Ask to see their certificates of insurance and don't be afraid to call their insurer to confirm coverage.
4.) Verify Experience
When you're looking for a commercial roofing contractor, it's important to make sure they have the right level of experience. Experience will help them assess potential problems before they arise and be able to provide a better quality job in a shorter amount of time. Ask the contractor for a portfolio of past projects so that you can get an idea of their expertise and capabilities. You should also check the company's ratings with the Better Business Bureau (BBB) and see if they have any reviews or customer testimonials. Finally, ask them about the types of roofing materials they have experience with, as different roofing materials require specialized knowledge and expertise. Taking the time to verify experience is essential in order to ensure that you hire the right contractor for your commercial roofing project.
5.) Get It In Writing
The final step in finding the best commercial roofing contractor for your project is to get everything in writing. The last thing you want is to end up with a bill that's much higher than what was initially agreed upon or materials and services that aren't what was promised. Make sure that all of the details, such as material quality, labor cost, payment terms, etc., are clearly outlined in the contract before any work begins. It's also important to have a timeline that is agreed upon so that the project stays on track. Having the details in writing will help protect both you and the contractor. If anything goes wrong, you can refer back to the contract to ensure that both parties are held accountable. Additionally, make sure that you keep a copy of the contract for your records.
Here at Reitzel Roofing & Exteriors, we serve Virginia Beach and its surrounding areas with professional commercial roofing services, from repairs, replacements, to coatings, we got you covered. We are a local and family-owned business that has been around for over 10 years. To book your complimentary commercial roofing inspection with Reitzel Roofing & Exteriors, click here!