As the summer sun shines brightly over Virginia Beach, it's the perfect time to explore the latest deck design trends that can transform your outdoor living space. Reitzel Roofing & Exteriors brings you a curated list of the top deck design trends for 2023. Whether you're looking to create a cozy retreat or an entertainment hub, these trends will inspire and elevate your deck's aesthetics while maximizing its functionality.
Sustainable Decking Materials:
In 2023, sustainable and eco-friendly decking materials are taking center stage. Homeowners are increasingly opting for environmentally conscious choices, such as composite decking made from recycled materials or sustainably sourced hardwoods. By choosing these materials, you not only enhance the beauty of your deck but also contribute to a greener future for Virginia Beach.
These sustainable options not only provide durability and longevity but also require minimal maintenance, freeing up your time to enjoy your deck rather than constantly worrying about upkeep. With a wide range of colors, textures, and finishes available, you can create a deck that perfectly complements your home's architectural style.
Multi-Level Decking:
Multi-level decks continue to gain popularity as they offer both visual interest and functional versatility. By incorporating different levels, you can create distinct areas for lounging, dining, and entertaining. This design trend not only adds dimension to your deck but also optimizes the use of space, especially in smaller yards.
Imagine having a sun-soaked lounge area on one level, a cozy dining nook on another, and a dedicated space for a hot tub or fire pit. Adding stylish staircases, built-in seating, and well-placed lighting can further enhance the aesthetic appeal and practicality of your multi-level deck.
Outdoor Kitchens and Dining Areas:
Virginia Beach residents are embracing the idea of outdoor kitchens and dining areas as an extension of their indoor living spaces. Imagine cooking up delicious meals while enjoying the ocean breeze. From built-in grills and pizza ovens to outdoor refrigerators and bar areas, the options are endless.
Investing in outdoor appliances and dedicated food preparation areas not only elevates your deck's functionality but also enhances the overall entertainment experience. Complete the picture with outdoor dining sets and cozy seating arrangements to provide the perfect spot for entertaining family and friends.
Integration of Nature:
Blending your deck seamlessly with the surrounding nature is a trend that continues to flourish. Homeowners are incorporating elements like built-in planters, vertical gardens, and pergolas adorned with climbing vines. This not only enhances the visual appeal of the deck but also creates a soothing and inviting atmosphere, connecting you with the natural beauty of Virginia Beach.
By incorporating greenery into your deck design, you can enjoy the calming effects of nature right in your own backyard. Surround yourself with vibrant flowers, aromatic herbs, and lush foliage that provide a refreshing backdrop for relaxation and entertainment. Additionally, pergolas and shade structures can provide relief from the sun's rays while adding architectural interest to your deck.
Deck Lighting: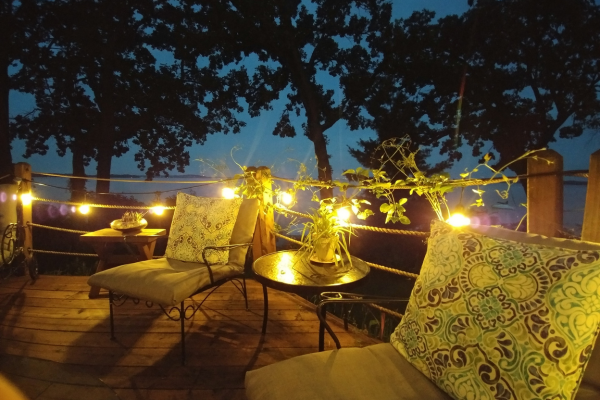 Deck lighting plays a vital role in creating a welcoming ambiance and extending the usability of your outdoor space into the evening hours. In 2023, deck lighting is all about strategic placement and energy efficiency. From LED strip lights and recessed fixtures to solar-powered options, there are lighting solutions for every deck design.
Illuminate walkways, accentuate architectural features, and highlight landscaping to add a magical touch to your deck. Consider incorporating dimmable lights to create various moods and highlight focal points. With the right lighting, you can create an enchanting atmosphere that allows you to enjoy your deck long after the sun sets.
Conclusion:
As you envision your dream deck, the possibilities are endless. Embrace the 2023 deck design trends in Virginia Beach to create an outdoor oasis that reflects your style and enhances your lifestyle. Reitzel Roofing & Exteriors is here to bring your vision to life. Our team of experienced professionals is ready to guide you through the deck design process, ensuring superior craftsmanship and attention to detail.
Don't wait any longer—book an appointment with Reitzel Roofing & Exteriors today and let us help you create the deck of your dreams!